This tour is for the horse lover! You will not be disappointed.
1.5 hours of horseback riding in the
jungle and on the beach, with the possibility to swim with the horse.
What really makes this tour different from other horseback riding tours is that they take small groups with a maximum of 10 riders AND that you have the option to gallop! (Galloping is not permitted at most ranches and the only one that we know that allows it, charges an additional fee of $10-20 USD for those who want to gallop!).
The horses are loved and well cared for. The Owners passion is horses!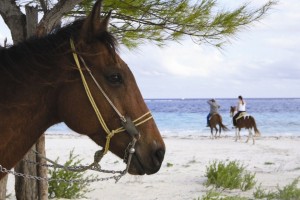 All riding leves are accommodated. You will be matched with a horse for your skill level.
1 beverage and snacks are included during the tour.
They offer three departures daily Monday to Saturday
9:30 a.m.
12:00 p.m.
3:00 p.m.
If you need transportation to the tour location north of Playa del Carmen
it is available for an additional cost of $15 US per person.
Beach and Jungle Horseback Riding Tour
$75 USD Per Person
Note: $15 USD deposit per person is required at the time of booking.